When it comes to buying Azure, you've got plenty of options. You can throw your credit card into the portal and manage it yourself – though you won't get any support when doing so, and it'll be up to you to make sense of Microsoft's lengthy, unfiltered billing and usage reports. This can be especially challenging if your team lacks the in-house resources or access to senior IT talent who can make your cloud computing project a success.
Alternatively, you can enrol in an Enterprise Agreement or with Microsoft directly. You'll receive some narrowly defined support services – but you'll also be one of a million customers, Microsoft won't be aware of your unique business scenario, and you'll be left to dig through Microsoft's documentation while you await their response to your issue.
Managing Azure yourself or working through an EA or Microsoft comes up short in three key areas: access to governance, guidance, and support. Enrolling with a cloud solution provider (CSP) like Codify offers these and other benefits, as CSPs are required by Microsoft to provide support for the services they sell.
But what's actually on offer to you can look very different from one partner to the next. If you're thinking of going the CSP route, you'll want to ensure the partner you select offers deep experience in Microsoft services and platforms – including the nuances associated with them.
Here are a few of the features and capabilities you should have access to, at a minimum:
Governance
'Governance' may not mean much to you if you aren't knee-deep in IT work. Think of it this way: proper cloud computing governance makes it possible to understand your Azure bill so that you can make better business decisions.
Take one component of good governance: resource policing. When we work with Codify's Managed Azure customers, we start by building an IT portfolio and implementing new resource policing processes that ensure new resources are added to the portfolio on an ongoing basis.
Then, because we've built the taxonomy that categorises all of your organisation's unique applications, we can produce clear invoices that make Azure's detailed billing understandable – no more unintelligible spreadsheets with hundreds of rows of individual Azure resources.
To see the difference in practice, view a standard Microsoft Invoice here, as well as an optimised invoice from Codify here.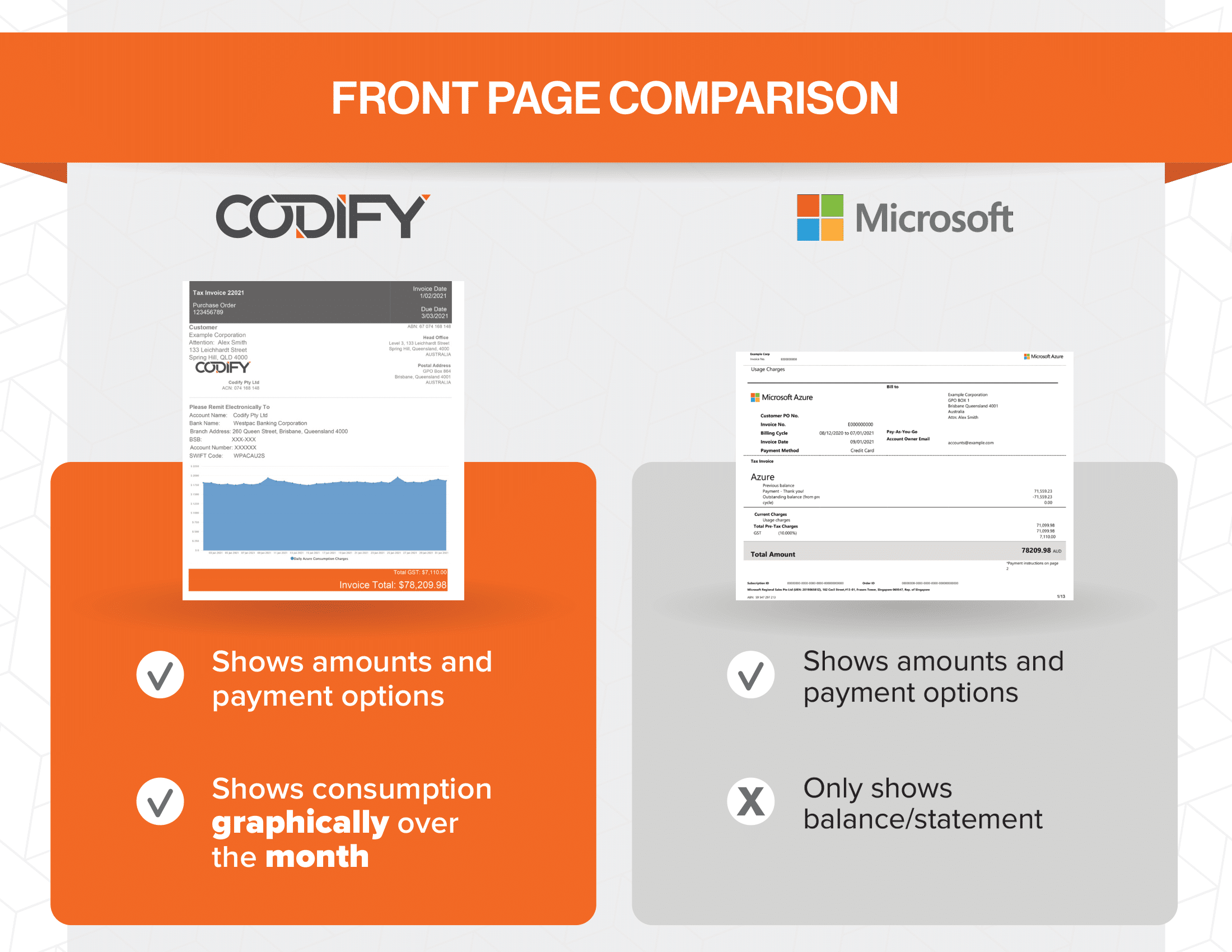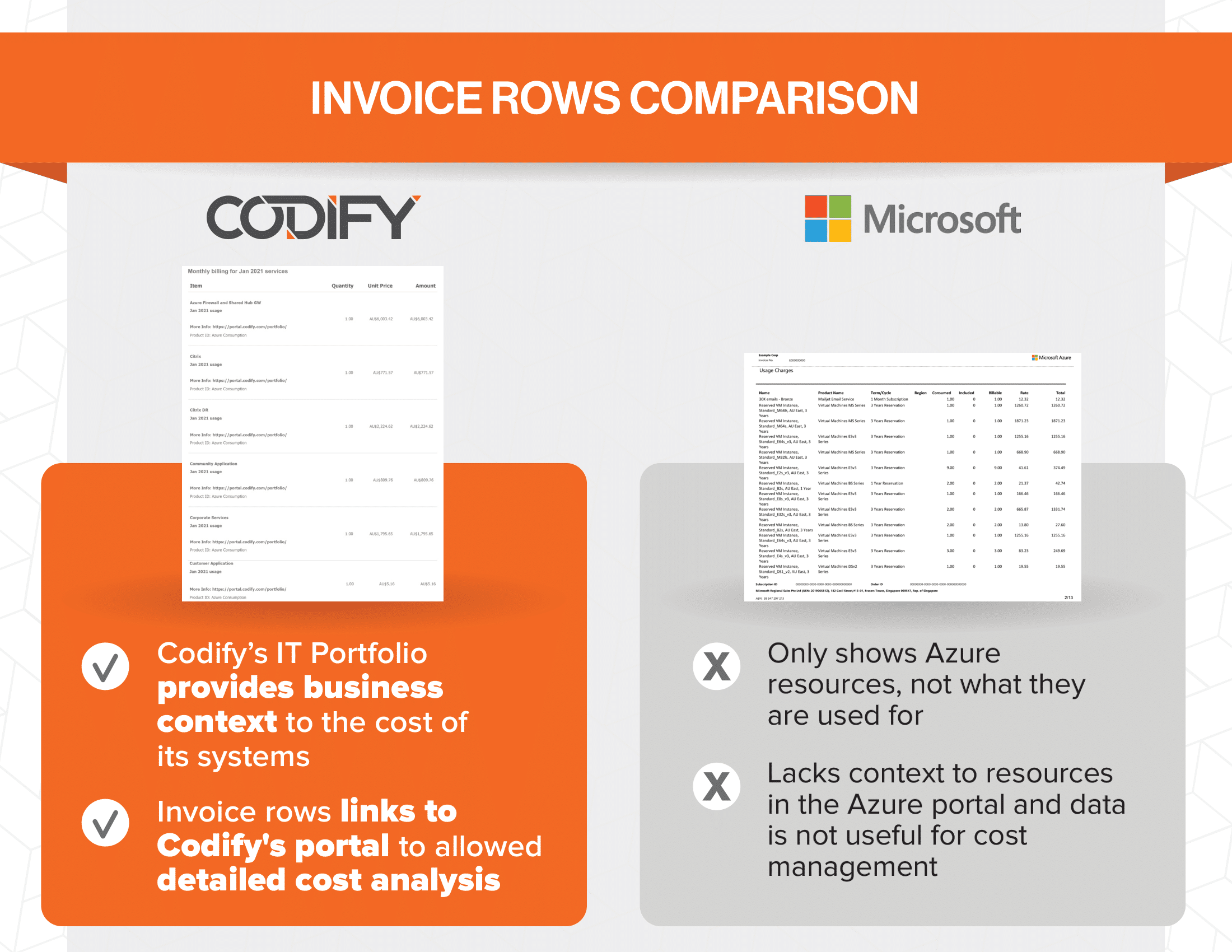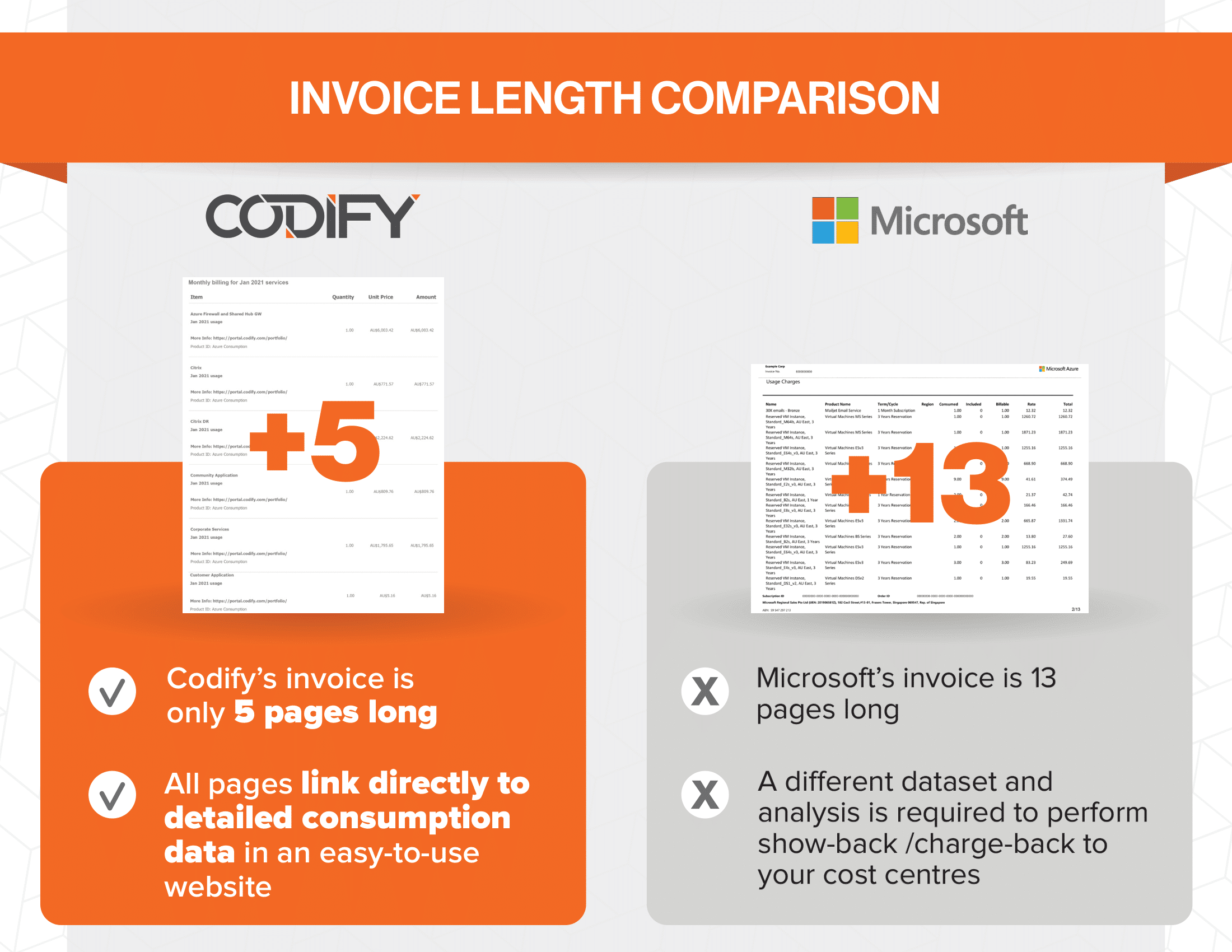 With data that's easier to consume, you gain greater insight into where you're spending money, where resources are being under-utilised, and where changes to your resource provisioning may be appropriate. Not only does this clarity help manage costs and improve operations, it can also be used to build a strong business case for further cloud migration
Having this solution in place, gave us the confidence to move swiftly and meet the business needs. Delivering these projects as a result of working with Codify has increased the value of ICT to the business.

Dan Gillham, Group ICT Manager, TerryWhite Chemmart
Guidance
Our work doesn't end once initial governance workflows are established. We continue to offer Managed Azure customers guidance that helps with their next workload as well. Other CSPs might treat guidance as new work or invest just a small amount of time into it. We prefer to roll up our sleeves and get on with the job.
As an example, imagine that your organisation is preparing to undertake an ERP implementation through SAP or Oracle. Do you have a partner on your side who's asking how you're going to deal with authentication, where you're going to deploy the application, or how you're going to evaluate tender responses when you go to market?
Examples like these demonstrate how guidance factors into the quality of a CSP's service.
Without proper guidance, organisations risk delays or cost overruns that come from choosing the wrong partner, planning solutions poorly, estimating costs incorrectly or standing up the wrong resources. Your CSP should be the partner in your corner, leveraging their expertise to make working with other vendors seamless.
Support
All CSPs are supposed to provide support to clients, per Microsoft's rules. But often, partners treat all but the most limited support activities as standalone projects – requiring customers to put their hands in their pockets for more money to get the help they need.
By contrast, we've structured our support component to include unlimited, non-hours-based support. Think of it as an 'all you can eat' inclusive option that lets our clients in financial services and other sectors tap into our multidisciplinary team on an as-needed basis. That means we can help with infrastructure questions just as easily as we can help with application support and development.
For many organisations in the financial services industry, for example, one of the biggest benefits of Codify's support offering is that we're able to respond quickly to any down-time that occurs. This is especially critical as, not only can down-time can have a negative impact on customer experience, it may also trigger a reporting requirement with the regulator if information security standards are compromised.
Another example is an automated check we've created that identifies Azure Managed Disks that are orphaned (as occurs when VMs are deleted and disks aren't cleaned up). Many of our customers aren't aware that Managed Disks are chargeable – whether they're connected to a VM or not. Between August 2020 and January 2021, our algorithm raised 209 tickets regarding unattached disks, allowing us to better optimise their Azure spend and avoid future billshock.
Self-Managed, PAYG and Enterprise Agreements vs. Codify CSP and Managed Azure
Ultimately, we've built our support approach on a simple promise: as a Managed Azure client, we'll do everything needed to maintain an environment that runs successfully for you.
To help crystallise the differences between Codify's Managed Azure offering and self-managed, pay-as-you-go and enterprise agreements, we've put together the following table for your reference:
 
Self Managed, Pay-as-you-Go, Enterprise Agreement
Codify CSP & Managed Azure
Support
Incidents
Raised via Azure Portal
Codify provides unlimited support to resolve outages in your Azure environment
Service Delivery Manager
Lengthy wait times or via optional support agreements
Real people and real numbers for you to direct contact for escalation
Requests
Self-service support limited to incomplete forum documentation
Service request fulfillment that scales your team with our Azure experts
Guidance
Cloud Optimisation
Customer must review and self-implement guidance from the Azure Advisor
We keep a watchful eye and make recommendations on your current configuration in the context of what your business needs
Offer Guidance
Customer must subscribe to Azure updates and review meaningful offers for themselves
We take the time to understand Microsoft's offers and provide you with advice to ensure you aren't leaving money on the table
Cloud Solution Architect
Customer must hire experienced staff to fulfil this role
Available for workshops and planning new cloud solutions collaboratively with you
Governance
Cloud Advisory Board
Rely on the good graces of their existing suppliers to listen to their objectives and not sell 🙂
Regular meetings designed to plan and track the delivery of your cloud objectives
IT Portfolio Management
Customers must manage the relationship between resources and the applications the business use; these are the principles of ipals of Show/Chargeback for cloud consumption
Codify maintains the IT portfolio, allowing for ongoing automation of resource policing to optimise costs and minimise complexity
Governance-as-a-Service
Customers must do this themselves; Azure Policies and Blueprints might be a starting point but can stifle your innovation ambitions
Our 'always on' platform continually ensures your environment is always in check, surfacing items that can save you money and keep your security posture in line with industry certifications (ISO27001, NIST SP 800, APRA CPS 234, and the Australian Government Information Security Manual (ISM) PROTECTED / RESTRICTED).
Automations support new resource policing, unplanned budget alerting, backup assurance, and more.
Billing
Microsoft invoice lines relate to Azure Resources; customers must self-manage the Showback/Chargeback of cloud resources
Codify's simple and clearly articulated invoices show you costs in meaningful lines that relate to your business
If you aren't currently receiving the level of support you need from your cloud solution provider, we'd love to introduce you to Codify's Managed Azure service. Contact us today to see the difference.